The EpiQuik™ Global Di-Methyl Histone H4R3 Quantification Kit (Colorimetric) is a complete set of optimized buffers and reagents to colorimetrically quantify global histone H4 arginine 3 di-methylation from a broad range of species such as mammals, plants, fungi, and bacteria, in a variety of forms including cultured cells and fresh tissues. Histone extracts can be prepared with your own successful method, or prepared with the EpiQuik™ Total Histone Extraction Kit. This kit has the following advantages:
Quick and efficient procedure, which can be finished within 3.5 hours.
Innovative colorimetric assay without the need for radioactivity, electrophoresis, or chromatography.
Specifically captures symmetric di-methylated H4R3 with the detection limit as low as 0.5 ng/well and detection range from 100 ng to 2 µg/well of histone extracts.
An assay control is conveniently included for the quantification of di-methylated H4R3.
Strip microplate format makes the assay flexible: manual or high throughput.
Simple, reliable, and consistent assay conditions.
Background Information
Arginine histone methylation is one of the many important epigenetic marks, and is essential for the regulation of multiple cellular processes. Arginine methylation of histones H3 (Arg2, 17, 26) and H4 (Arg3) promotes transcriptional activation and is mediated by a family of protein arginine methyltransferases (PRMTs). They can mediate mono or dimethylation of arginine residues. These enzymes use S-adenosyl-methionine (SAM) as a methyl donor and transfer it to the guanidinium side chain of arginine. Based on the position of methyl group addition, the PRMTs can be classified into type I (CARM1, PRMT1, PRMT2, PRMT3, PRMT6, and PRMT8) and type II (PRMT5 and PRMT7).
Symmetric di-methylation of histone H4 arg3 (H4R3) are catalyzed by type II PRMTs, which are found to be strongly implicated in diseases like cancer. For example, PRMT5 plays a role in the repression of certain tumor suppressor genes such as RB tumor suppressors while PRMT7 overexpression is observed in breast cancer. The global H4R3 di-methylation can be changed by inhibition or activation of type II PRMTs. Therefore, quantitative detection of global symmetric di-methyl histone H4R3 would provide useful information for better understanding epigenetic regulation of gene activation and silencing, as well as for developing PRMT-targeted drugs.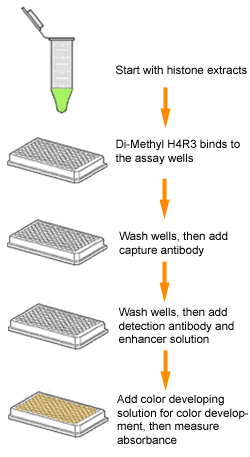 Fig. 1.

Schematic procedure for the EpiQuik™ Global Di-Methyl Histone H4R3 Quantification Kit (Colorimetric).